Preferred lenders - companies

My recommended lenders
All of my customers are encouraged to choose the mortgage lenders who are most suitable for their wants, needs, and specific situation.
If you've never bought a home before, a number of mortgage loan options can be overwhelming. What's the difference between a conventional loan and a government loan, and should you go with an adjustable-rate or fixed-rate mortgage? Even if you have bought a home before, if it's been several years, then you might not remember everything you'll want to know before making a decision about which loan type is going to be best for your situation.
There's good news, though: it won't take long to get a handle on the different types of loans available to you and figure out which one best fits your circumstances.
US Capital Group
David Talbert
225-490-4996
dtalbert@uscapitalgroup.net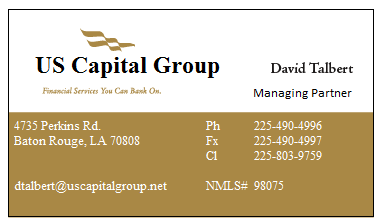 Sandy Whitehead
Union Home Mortgage
225-931-0396
swhitehead@unionhomemortgage.com
LO NMLS 118150 | 13441 Tigerbend Road Ste D, Baton Rouge LA 70817
Bank of St. Francisville
Carter Leak, Aimee Cook, Melvin Harvey
225-635-6397